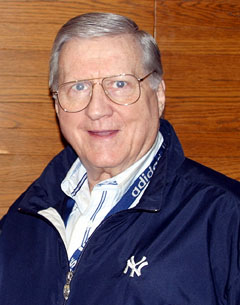 The news of the passing of Bob Sheppard is barely cold and we now have news of the loss of the patriarch of the Yankee and Steinbrenner family, George M. Steinbrenner has suffered a massive heart attack. Originally My9 in NYC reported that he passed away. Steinbrenner who turned 80 was rushed to St. Joseph's hospital in Tampa, Florida, and his condition is now confirmed that he has left us for that big ballyard in the sky..

Love him or hate him he brought winning back to the Bronx when he purchased the team back in 1973. He originally bid on the Cleveland Indians and was turned down. Imagine how baseball would have changed if he had bought the Indians instead of the Yankees!

He opened up a whole new world to adult team apparel. Look around any stadium or arena today and see everyone wearing their team colors no matter what age, which was the work of George. Before George the only place I could get a Yankee cap to fit my head was the famed Manny's Baseball Land across from the old stadium.

George although drastic at times showed what it was like to have Yankee Pride. He brought 7 more trophies to the Bronx as well as 11 American League pennants. If you worked for George you had a job for life.

Steinbrenner is the longest-tenured owner in Major League Baseball, having served as principal owner since purchasing the club on Jan.3, 1973 for $10 million.
Steinbrenner has been in failing health in recent years and his sons Hal and Hank running baseball operations.

Steinbrenner bought the Yankees for $10 million and under his ownership they have become the most valuable team in U.S. professional sports, with Forbes.com estimated its value at over one-billion dollars.

We will miss you George thank you for everything, but your sons will do you proud.